SSEN Transmission fights emissions with 'greener grid' technology at Kintore substation
A world first for SSEN Transmission in the battle to tackle climate change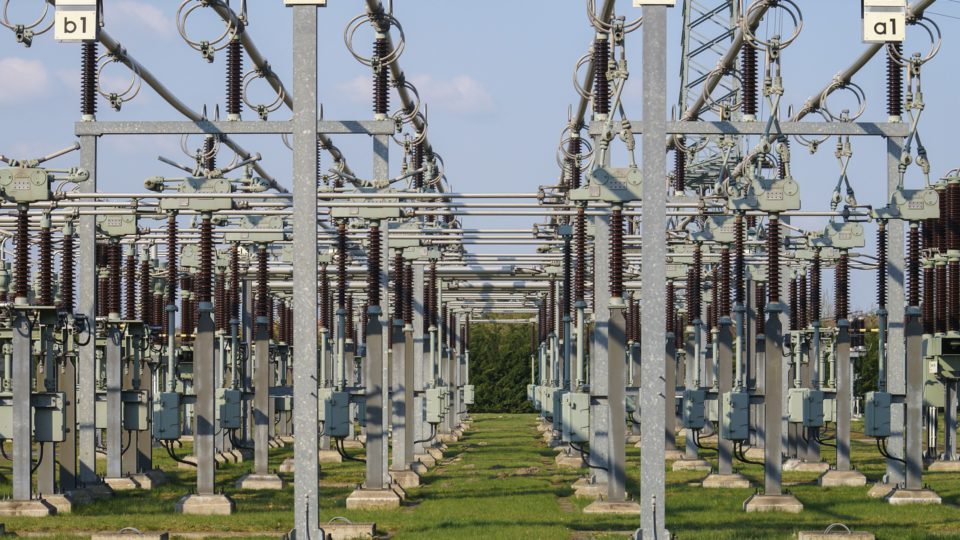 SSEN Transmission and GE Renewable Energy's Grid Solutions Business have announced the development of a game-changing technology to reduce the use of harmful SF6, a gas widely used across the electricity industry. Upon completion, the 420 kV Green Gas for Grid (g3) switchgear, which is being developed by GE with backing from the EU's LIFE Programme, is expected to be the world's first. It will be installed at SSEN Transmission's new Kintore 400 kV substation.
In August of this year, SSEN Transmission became the world's first electricity networks company to receive external accreditation from the Science Based Target initiative for its plans to tackle its direct impacts on climate change. This accreditation demonstrates SSEN Transmission's commitment to reduce its own greenhouse gas emissions in line with a 1.5C global warming pathway that is critical to prevent the worst impacts of climate change.
One of the key ways SSEN Transmission will achieve its target is to clean up the environmentally hazardous gases it uses to operate its transmission infrastructure. The installation of GE's Green Gas for Grid (g3) switchgear at the Kintore substation, the first time globally that SF6-free gas insulated switchgear will be used at a voltage level of 400 kV, will support this by avoiding the addition of roughly 350,000 tonnes of CO2 equivalent to the grid. This is comparable to removing over 138,000 cars from our roads for one year.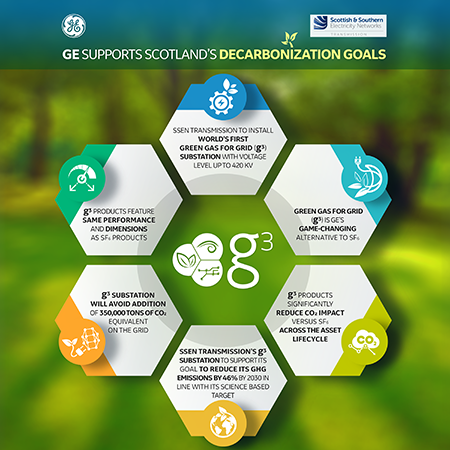 Commenting on the ground-breaking development, Rob McDonald, Managing Director of Transmission, said: "Tackling climate change is one of the greatest challenges of our generation and we are serious about our commitment to take direct and meaningful action to reduce our own impacts, as demonstrated by our world leading emission reduction targets.
"We have been working closely with GE over the past 18 months and are extremely proud to support the research and development of this innovative and world leading new technology.  By leading the industry in the drive to reduce greenhouse gas emissions, we hope we can build on this partnership and encourage even greater action and industry cooperation to support the transition to net zero emissions."
"SSEN Transmission's 420 kV g3 gas insulated substation order is further proof of the market's acceptance of our technology as a game-changing alternative to SF6," said Heiner Markhoff, chief executive of Grid Solutions. "Because 420 kV is the highest voltage level used in Europe, it will demonstrate the scalability of GE's g3 for all standard voltage levels," he added.
This exciting circuit-breaker development builds on SSEN Transmission's existing partnership with GE which has already seen the deployment of SF6-free technology across the north of Scotland's transmission network.  SSEN Transmission placed its first order with GE in March 2019 for the construction of 1 km of g3 insulated busbars (GIB) at its New Deer substation, as well a 145 kV g3-gas insulated substation and a 420 kV g3 gas-insulated busbar for its Fort Augustus site in Scotland.
Once operational, the new Kintore substation will form a vital part of SSEN Transmission's reinforcement of the transmission network in the East Coast of Scotland, enabling further renewables growth and facilitating Scotland and the UK's transition to net zero emissions.
---
Comments
Login on register to comment