Faversham House launches Utility Week Live Online, November 24-26 2020
Faversham House, the organiser of Utility Week Live and publisher of Utility Week, has announced the launch of Utility Week Live Online (UWLO), a virtual exhibition and conference running from November 24-26 2020.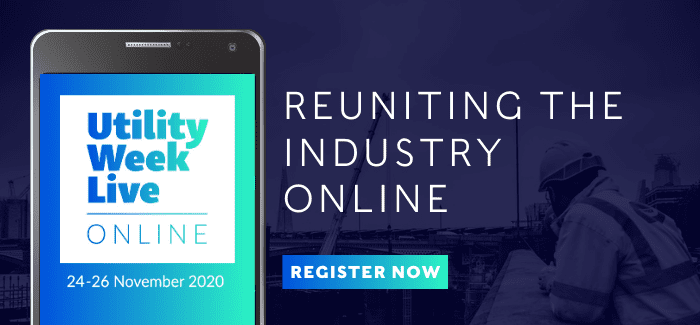 UWLO show director Rachael Lyon said: "Sitting behind the UK's energy, gas and water companies are a wealth of innovators and solution providers, developing new and better ways of delivering services on site, in the field and in the office. The creativity and innovation of utilities industry and their supply chain never ceases to amaze us – and we're delighted to bring the industry together in a virtual space at a time when face to face contact is limited.
---
---
"We've been working hard behind the scenes with a host of platform providers to develop a digital experience that recreates all the most-loved features of Utility Week Live – and much more. We believe that virtual events offer a unique opportunity to find a new way of connecting exhibitors and visitors. Our sophisticated AI-powered matching technology will ensure that visitors discover the exhibitors, products and content that are right for them, and our multiple networking functionalities offer a host of ways to find and meet the people you need to talk to."
UWLO will be a practical, hands-on event for utilities professionals working across assets, operations, engineering, innovation and technology. It will feature two conference programmes, one on operational excellence and one on innovation, both created by the award-winning editorial team behind Utility Week. Focus areas within the pan-utility operational excellence programme will include: asset management, workforce, smart metering, cloud and AI for business resilience, water treatment, and leakage. The programme will also include a number of 'supplier showcases', where suppliers in these fields will outline their latest innovations and product development. Further details of the innovation programme will be released shortly.
UWLO will be hosted on the Swapcard digital platform, with sophisticated AI-powered matching technology directing visitors to the content, exhibitors and products of interest to them. As well as two concurrent conference programmes, it will include virtual booths for all exhibitors, which include company details, products and content. There are multiple opportunities for visitors and exhibitors to find one another and schedule video meetings, as well as opportunities for training sessions, product demos and interactive workshops. Content will be available on-demand after it has been screened live, and the show will remain open for viewing for up to a year after the live dates.
UWLO takes the place of Utility Week Live, which had been planned to take place at Birmingham's NEC in November 2020. Faversham House announced last month that the show has moved to 18-19 May 2021, where it will reunite the industry in Birmingham's NEC.
---
---
Comments
Login on register to comment