Asset Investment planning and management at National Grid
Recorded on 09 Jun 20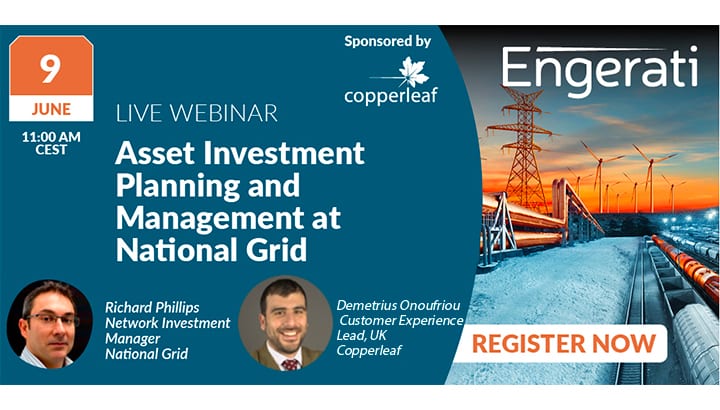 Join this webinar to hear how National Grid Gas Transmission (NGGT) and Copperleaf worked together to develop an integrated approach to Asset Investment Planning and Management (AIPM) that align modelled asset risk with real-world financial, performance and operational delivery constraints.
In the run up to a new regulatory period for the UK's energy networks (RIIO2) NGGT and Copperleaf's partnership has allowed for a rethink of historical approaches to formulating asset investment plans for regulatory submissions.
Unlike many organisations which still rely on a modelled view of asset risk and intervention strategies which bear little or no resemblance to what investment projects are actually delivered, NGGT has now achieved an integration of bottom-up asset strategies with top-down project portfolios which will unlock significant benefits in the RIIO-T2 regulatory period. Register for the webinar now to find out how.
Webinar speakers will include:
Richard Phillips, Network Investment Manager, National Grid Gas Transmission
Demetrius Onoufriou, Customer Experience Lead, UK
Stefan Sadnicki, Managing Director of Copperleaf in EMEA
National Grid Gas Transmission (NGGT) manages and operates the national gas transmission in Great Britain with a network of approximately 7,660 kilometers of high-pressure pipe and 618 above-ground installations. These assets are long-lived, expensive to maintain and repair, and widely distributed geographically. NGGT has worked with Copperleaf to enhance its planning and decision making since 2018.