EMEC mobile hydrogen refuelling solution to power aviation world first
Refuelling station to power hydrogen test flight programme in Cranfield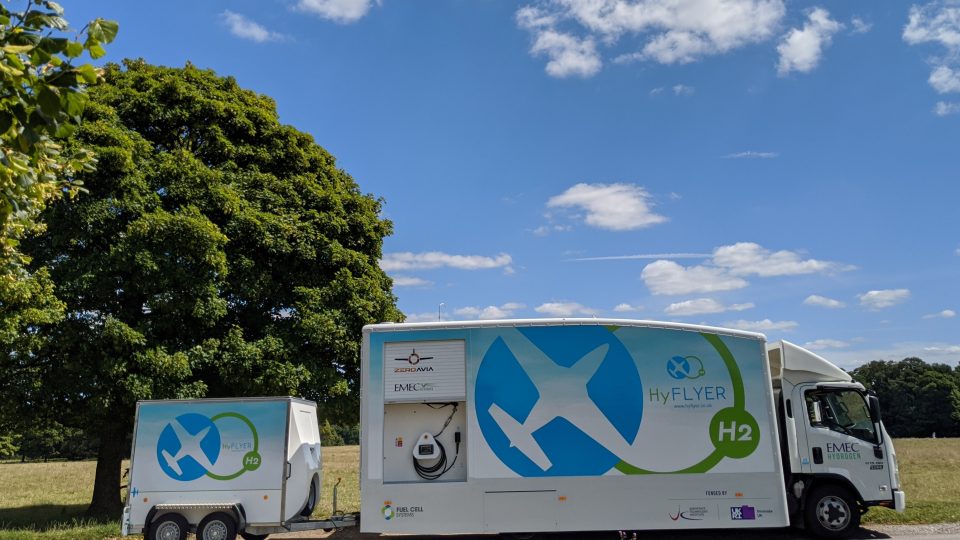 The European Marine Energy Centre (EMEC) has unveiled an end-to-end hydrogen refuelling solution supporting ZeroAvia's hydrogen-powered test flight programme in Cranfield.
The hydrogen refuelling solution, delivered by EMEC in conjunction with subcontractor Fuel Cell Systems Limited (FCSL), is a mobile solution consisting of a re-deployable modular electrolyser, trailer mounted air compressor and a first of its kind ADR-certified 350 bar refuelling truck.
Delivery of the refuelling solution is a key milestone in the Aerospace Technology Institute (ATI) and Innovate UK funded HyFlyer project.
The three part refuelling system uses the electrolyser for on-site generation of hydrogen gas which is compressed and stored onboard the refuelling truck. The hydrogen can then be used to fuel an aircraft, in this case fuelling ZeroAvia's Piper M-Class aircraft.
Storing up to 55 kg of hydrogen, the refuelling truck can support multiple daily flights within the HyFlyer test programme. Having successfully gained ADR certification, a specialist test for vehicles carrying hazardous goods in bulk, the refuelling truck can now legally carry hydrogen on the roads, making it the first mobile refuelling solution of its kind available in Europe.
The system is currently being used by ZeroAvia at its R&D base at Cranfield Airport where it recently carried out the world's first hydrogen-electric flight of a commercial scale aircraft.
ZeroAvia is now working on the next phase of the aircraft's technology integration and testing programme using the mobile refuelling solution to support a 250-300 nautical mile A – B demonstration flight, expected to be the longest hydrogen powered flight on record.
Neil Kermode, managing director at EMEC, said: "We're delighted to be supporting ZeroAvia's test flight programme and developing EMEC's hydrogen capabilities. Operating as a mobile 350 bar hydrogen refuelling solution, the HyFlyer truck can provide hydrogen fuelling service to locations with no existing or fixed hydrogen infrastructure which is enabling the solution to be used in an airport setting.
"We found that there was no standard for hydrogen refuelling in an aviation setting so the mobile solution has been developed in accordance with the automotive J2601 hydrogen refuelling standards while being bespoke to best fit the project needs."
Tom Chicken, chief technical officer at FCSL, said: "Achieving ADR certification, so that the truck can transport hydrogen legally on the roads, is a huge step forward to facilitate hydrogen fuelled transport and is a first for Europe. We are delighted to have been involved in the HyFlyer project and look forward to continuing to provide our hydrogen refuelling services to the transport sector."
Val Miftakhov, CEO of ZeroAvia said: "ZeroAvia expects to deliver zero emissions hydrogen-electric aviation ready for passengers by 2023. We are continuing to develop and test our Piper M class model, which will be scaled up for larger aircraft and longer distance travel.
"As hydrogen-electric aircraft enter service, the hydrogen refuelling solution developed within the HyFlyer project demonstrates the refuelling possibilities which airports and airlines will need to consider, to accelerate their own transition to sustainable flight."
The HyFlyer project is led by ZeroAvia with project partners the European Marine Energy Centre (EMEC) and Intelligent Energy.
---
Comments
Login on register to comment