Winners of offshore wind innovation competition announced
Major boost for UK robotics sector as GE Renewable Energy and ORE Catapult announce winners of offshore wind innovation competition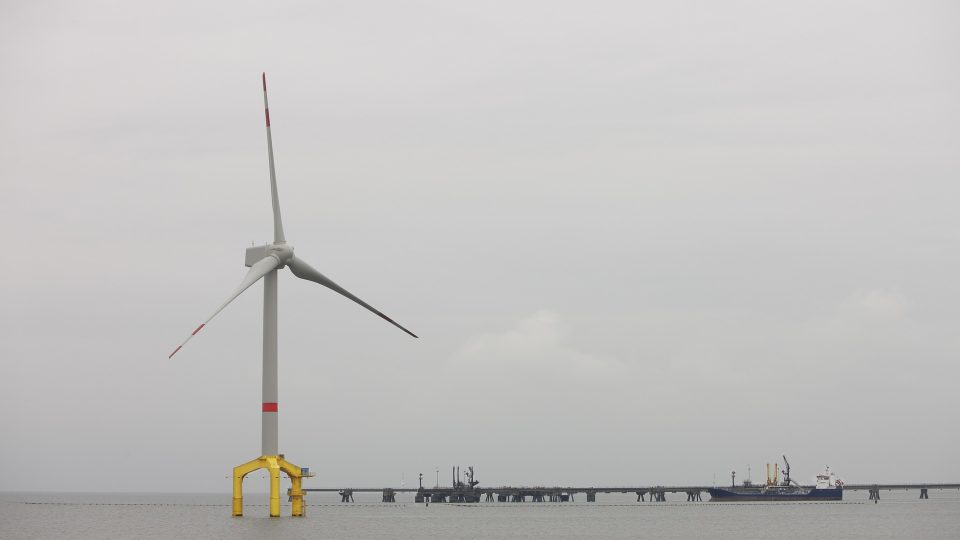 Tethys Energy Services (Tethys) and Aerones have won a major competition to demonstrate a novel remote blade maintenance technique for offshore wind farms to one of the industry's leading turbine manufacturers.
The two companies have won a blade robotics innovation competition launched by GE Renewable Energy, the Offshore Renewable Energy (ORE) Catapult and KTN, which called for robotics solutions focussed on automating maintenance activities and reducing unplanned offshore activity during the O&M phase of offshore wind turbine blades.
Tethys and Aerones will deliver a new offshore transportation and delivery platform to enable the Aerones onshore wind robotics technology to work offshore. The system will be able to deliver advanced remote inspection, maintenance and repair tasks on offshore wind turbine blades up to 5x faster than conventional rope access, drastically reducing turbine downtime. It is also more scalable and much safer to deploy, removing the need for personnel to work at height.
The next stage in development will see Tethys and Aerones demonstrate their prototype technology on ORE Catapult's 7MW Levenmouth Demonstration Turbine in Fife. In addition, GE Renewable Energy will provide technical support and guidance on how the technology could be used on the company's offshore projects.
Tethys is establishing its operations base in the UK, from which it will provide an increased variety of proven, innovative services to wind farms across Europe, growing its UK-based employees to 40 by 2024. Aerones intends to explore options for manufacturing the robots in the UK, creating a high value robotics manufacturing site, focussed on offshore wind.
The innovation competition, the first in a planned series of challenge competitions, was developed as part of GE and ORE Catapult's Stay Ashore research and development programme and was delivered through the Offshore Wind Innovation Hub's Innovation Exchange (OWiX) in partnership with KTN. Through OWiX, KTN and ORE Catapult actively searched the robotics industry to bring GE the best solutions that the UK has to offer. The adoption of robotics technology is seen as vital for the offshore wind sector, which, according to ORE Catapult research, could cut its inspection costs by almost 40% through integrating remote operations, robotics and automated systems into operations and maintenance activities.
Vincent Schellings, chief technology officer for Offshore Wind at GE Renewable Energy, said "Innovative robotics solutions such as this have the ability to significantly reduce operation & maintenance cost for offshore wind turbines like the Haliade-X, the most powerful turbine in operation today.  We look forward to working with these and other partners committing to drive the continued growth of offshore wind in the UK."
ORE Catapult's research & innovation director Stephen Wyatt added: "Bringing through new innovations from the robotics sector to help improve the operations and performance of offshore wind farms, and to continue to drive down costs, is vital if the UK is to meet ambitious installation targets of 40 GW by 2030, and achieve net-zero by 2050. Supporting companies like Tethys and Aerones to further develop and enhance their technology, and showcase their products to the industry's leading operators and turbine manufacturers, brings a huge boost to the UK offshore wind supply chain, helping to create jobs and generate millions of pounds for the UK economy."
Chris Bagley, head of clean energy and infrastructure, KTN said: "We are incredibly proud to have played a part in bringing together a solution that will make such a positive impact on the use and development of clean energy systems. The Innovation Exchange approach enabled all parties to quickly and efficiently identify the key elements in the challenge and so produce a highly focused solution. We look forward to supporting more clean energy challenges soon."
Tethys founders Mike Newman and Jamie Allan said: "Tethys, along with Aerones, is proud to be selected by GE as the winner of the iX competition, re-affirming our position as the market-leading robotics solution provider for wind turbine blade maintenance. Our experience with robotics technology and service delivery in offshore wind makes the Tethys team ideally suited to support Aerones to deliver its onshore wind robotics solution to the offshore environment. We welcome GE's support and interest and have no doubt that we can help drive cost reduction in the coming years. At Tethys, we are also committed building out our business in the UK – the global market leader in offshore wind.
Aerones CEO Janis Putrams added: "We are incredibly excited that GE offers us the opportunity to trial our offshore robotic wind turbine blade maintenance systems. Tethys has provided offshore wind expertise, whilst GE has provided the test ground and technical support for us to take our robotics technology to the next level. We will now be able to show GE and the industry how much of a cost saving we can offer in an offshore environment. Not only are blades are getting longer, conditions are getting harsher, distances to site are increasing and the supply of experienced blade technicians is getting squeezed. We provide a market-leading scalable robotics solution that offers a full suite of blade services to solve this problem and remain convinced this is the only way for the industry to go to continue to reduce the levelised cost of energy."
---
Comments
Login on register to comment